May 3, 2023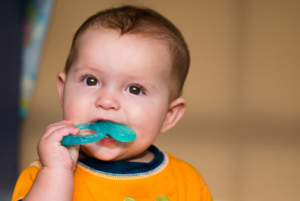 Seeing your child's first tooth come in can be quite an exciting experience; it's an important milestone for them and paves the way for the grand entrance of the rest of their teeth. However, the teething process isn't easy for most children, and many experience discomfort that'll likely tug at your heartstrings—but as a parent, what can you do to assist them? One solution that might prove useful is a teething ring. Here's more from your trusted pediatric dentist about teething rings and how they can safely alleviate some of the discomfort associated with teething in children.
A Closer Look at Teething Rings
Babies usually start teething when they're around 4 to 7 months old, though it can sometimes begin earlier or later than this. When it occurs, the usual signs include tender or swollen gums, irritability, drooling, trouble sleeping, refusing food, and the urge to bite hard objects. It's very common for children to experience notable discomfort during the teething process, which is where teething rings (sometimes called teethers) come in handy.
They're a type of teething toy designed with small children in mind, so they're easy for tiny hands to firmly grasp. They're also made from safe materials like soft silicone or rubber and can safely be chewed on by children. By biting these teething toys, children can provide soothing counterpressure to their sore gums.
Tips for Using Teething Toys
Dental professionals agree that when used correctly, teething toys are a safe and effective means of providing relief for children experiencing discomfort due to teething. That said, here are some tips to consider before giving your child a teething toy:
Since teething rings come in many materials and designs, be sure you're picking one made from rubber, silicone, or soft plastic. Avoid any toys that have small parts like rattles, or liquids on the inside, as these present choking hazards.
A chilled teething ring can provide even more relief for your child; you can simply place the ring in the refrigerator beforehand to cool it off—just be sure that you don't freeze and harden it.
Be sure that you're always watching your child while they're using any type of teething toy, and never tie the toy around your child's neck to keep it in place.
Teething can be a difficult time for your little one, but fortunately, teething toys like teething rings offer an excellent and safe solution for addressing the associated discomfort and ensuring that once your child's teeth emerge, they'll feel ready to show them off!
About the Author
Dr. Maggie Davis received her dental doctorate from the University of Florida and is a Board-Certified Pediatric Dentist and proud Diplomate of the American Academy of Pediatric Dentistry! Her practice in Palm Harbor is thrilled to offer a wide range of pediatric services for children of all ages. If you have any questions about the blog or you need to set up a visit for your little one, feel free to contact Dr. Davis through her practice's website or by telephone for further assistance: (727) 472-8662.
Comments Off

on Are Teething Rings Safe for My Child?
No Comments
No comments yet.
RSS feed for comments on this post.
Sorry, the comment form is closed at this time.