Who We Help - Palm Harbor, FL
If Your Child Can Smile, They're Welcome Here!
We like to keep our doors wide open for Palm Harbor families and welcome absolutely every child into our pediatric dental office. Whether your child has just gotten their first tooth, may be ready for braces, or is already thinking about college, the expertise offered by our pediatric dentists will ensure they have a healthy and gorgeous smile they're eager to show off. No matter what your little (or not so little!) one needs, you'll find that we're more than ready to provide the dedicated service they deserve.
Dentistry for Infants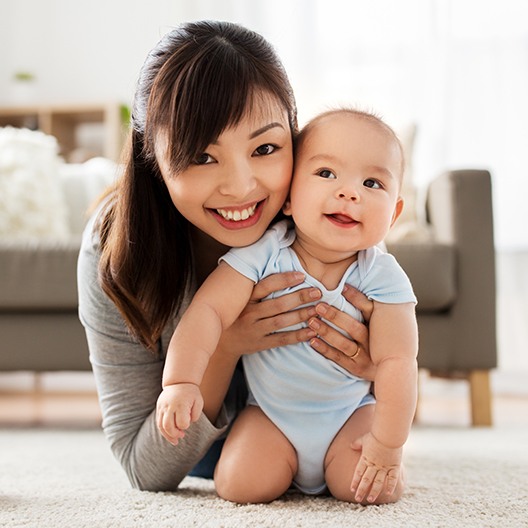 Babies require dental care even before their first teeth come in! We recommend cleaning your child's mouth with a rag soaked in warm water after every feeding, and make sure your child doesn't fall asleep with their bottle in their mouth. We can ensure that your child's oral health starts on the right foot, and we'll be here whenever you need us to answer questions about their ever-changing smile and dental needs.
Learn About Lip & Tongue-Tie
First Tooth, First Visit
The 'First Tooth, First Visit' appointment was created to help you and your infant establish a dental home. This important appointment will give you the opportunity to sit one-on-one with our dentists to discuss cavity prevention and your infant's future dental milestones.
Here's how it works…
The dentist will examine your infant's teeth and gums with a toothbrush and mirror while your baby rests in your lap.
The dentist will go over her findings, make recommendations, and send you home with a worksheet outlining healthy habits to implement now, along with future milestones you should expect.
Any questions you have will be answered as your child toddles around the colorful kid zone.
The most challenging part of the appointment will be coaxing your child away from the toys when it's time to go!
Dentistry for Toddlers
The toddler years are an extremely important time in a child's dental development. Especially, since toddlers often fall and experience dental trauma. Not only are their baby teeth coming in, but this is also when children begin to form their dental habits. In addition to offering regular checkups and cleanings, we'll also take time during your child's appointments to talk about the basics of oral hygiene and diet. We offer a 24/7 emergency line for established patients to reach out in the event of an accident. Between our efforts and yours at home, they are sure to adopt healthy habits nice and early!
Dentistry for Children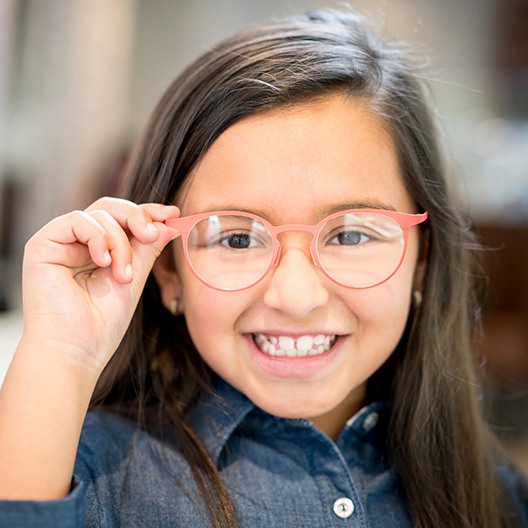 Once a child starts school, the social aspect of their smile becomes more important than ever. That's why we're ready to provide tooth-colored fillings and zirconia crowns that can easily fix dental damage without altering the appearance of your child's teeth. Usually, orthodontic issues start to appear around this time as well, and thanks to our on-site orthodontist, we can get your child the care they need as soon as possible so they can begin (and end!) the treatment process as fast as possible.
Dentistry for Teens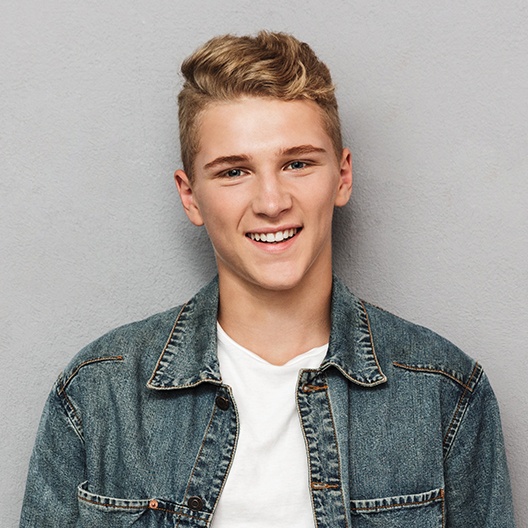 As a child enters their teen years, they should have most if not all of their permanent teeth, which with the right care, can be trusted to last for the rest of their life. In fact, our team loves connecting with teens over the importance of dental hygiene when mom and dad's advice just won't do. If any cavities or dental damage occurs, we can take care of it with natural-looking restorations that will have your child smiling for selfies in no time. We'll also keep a close eye on their wisdom teeth so we can recommend they be removed before your child experiences any pain.
Special Needs Dentistry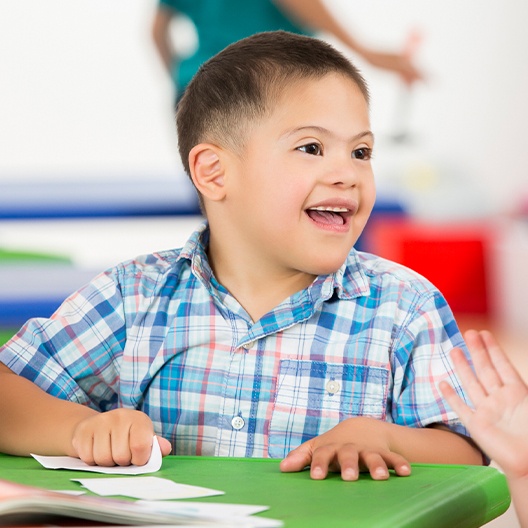 Do you have a child with mental, physical, sensory, or behavioral special needs? Our dentists and team have plenty of experience working with children who deserve extra care and attention. In fact, our hygienists are specialty-trained and have a positive reputation in the Autism Spectrum community. If you'd like to just give us a call ahead of their visit, we can make any accommodations necessary to ensure a smooth and productive experience. We'll also work with you to put together an ongoing care plan you and your child can easily follow to prevent many dental problems from happening in the first place.
Learn More About Special Needs Dentistry
Frequently Asked Questions - Children's Dentistry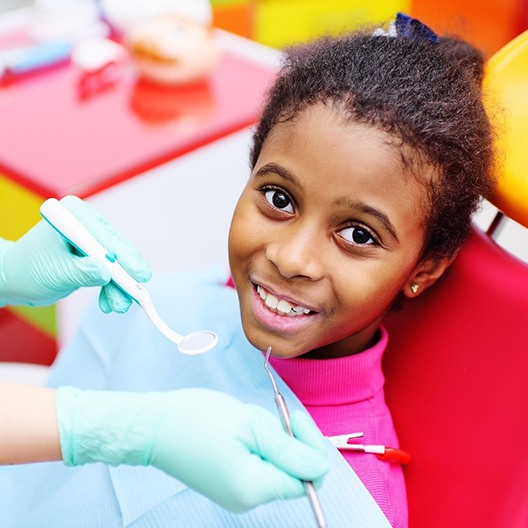 Finding the right children's dentist takes time. Fortunately, Dr. Maggie Davis and her team are here to provide exceptional care to your little one, ensuring their smile grows healthy and strong. Just like adults, children require regular dental visits to keep tooth decay, cavities, and gum disease from developing and spreading, which is why you can trust our team to take the best possible care of your child and their smile. But we also understand you probably have many questions, which is why we are here to provide the answers you need to make the right decision about your child's oral healthcare needs. Below is a list of questions you can review. If you need additional assistance or would like to meet with Dr. Maggie, contact us today to schedule an appointment.
Are my child's baby teeth important to their overall health?
Yes, your child's baby teeth serve as the placeholders for their primary adult teeth when it's time for them to erupt. While it is true these teeth will eventually fall out, it's important that they remain healthy to avoid premature tooth loss. Should your child's baby tooth fall out too early or require extraction because of poor oral hygiene, it will be necessary for us to insert a space maintainer to keep nearby teeth from shifting out of place and causing alignment problems.
Why is it important for a child to see the dentist at an early age?
Children are often far more prone to tooth decay and cavities. Also, their teeth, gums, bite, and jaw are all still developing, which is why it's necessary to schedule your child's first dental appointment either before they reach the age of 1 or once their first tooth erupts. Every six months, you'll need to bring them in to have a regular dental checkup and cleaning. As they grow older, we will begin to incorporate dental x-rays as part of their visit as well as fluoride treatments and dental sealants if you prefer. By starting early, you and our team of experts can help your child get excited about oral hygiene and begin encouraging good habits to ensure a healthy smile throughout the coming years.
Does my child need X-rays?
Yes, once our team believes your child is old enough, we will need to take dental x-rays of their smile. While this can be unnerving for parents, especially if you assume traditional methods are still used, you'll be pleased to know that as a kid's dentist, Dr. Maggie and Dr. Lorielle use all-digital x-rays, which emit 90% less radiation than traditional film. Also, these images are a higher resolution, so we can see your child's teeth, gums, jawbone, and facial structure more clearly, which makes treatment planning more accurate. One of the great things about these X-rays is that we can store and reference them over the years to help in furthering your child's oral development. This not only helps to spot problems and trends before they become serious, but it also allows our team to identify areas of concern beneath the surface that cannot be seen by the naked eye.
What should I do if my child has a toothache?
If your little one has a toothache, it's natural to want to provide whatever relief you can to help them feel better. The best thing you can do is provide them with a warm glass of saltwater and have them swish it around. This can help loosen anything that might be lodged between their teeth. You can also help them floss to remove food that may be stuck. If it appears there is nothing inside their mouth that needs to come out, it may be that they have an infection. No matter the reason for the pain, you are free to give your child an over-the-counter pain reliever, just remember to use it as instructed. You'll also need to call our office and alert us to the situation so that we can determine if you should bring them in for an appointment.
Should I worry about thumb-sucking?
Thumb-sucking is a normal, non-nutritive habit that is practiced by many babies and toddlers to help them feel comforted. However, if allowed to continue once permanent teeth erupt, it can potentially be disastrous for your child's smile. Because of the sucking and pulling motion of the thumb or finger while inside the mouth, it can cause orthodontic issues to arise that will eventually lead to braces later in life. If you are struggling to help your little one avoid sucking their thumb, Dr. Maggie and Dr. Lorielle can help by providing helpful tips and guidance that will have your child giving up this bad habit.