April 7, 2023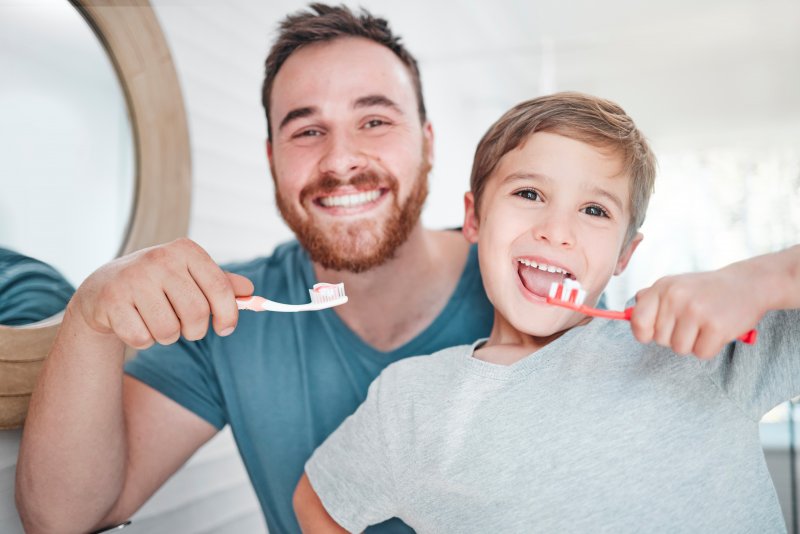 When it comes to doing fun things, most children will not include brushing and flossing as part of their list. This is why it can be a challenge to get young ones to take proper care of their teeth and gums daily. The good news is that dental health doesn't have to be a bore. Instead, a pediatric dentist is here to share four ways to make oral hygiene fun for kids.
Let Them Pick Their Toothbrush
If you hand a child two different toothbrushes, one that is white with a little bit of color or one that has a picture of their favorite animated character, they're likely to choose the latter. When they see that Superman, Cinderella, or even the pups from Paw Patrol are with them every morning and night when brushing, they'll get more excited about the idea.
The next time you're at the store, take them along and let them pick out their next toothbrush. Not only will they feel part of the process, but they'll become eager to use it once they get home.
Put On Some Music
Put on your child's favorite song and let them dance while caring for their teeth. Instead of forcing them to stand still and brush, adding some music to the routine will add a bit of excitement. You'll just want to make sure that the song is a full two minutes so that their teeth get a thorough cleaning.
Develop a Reward System
You want your kid to floss more, right? Whether they choose to use regular dental floss or one of the many cool and unique kid-friendly flossers, tell them that they will get a reward if they floss every day for an entire week.
You can set the timeframe and choose the reward, just be mindful of using candy or other sugary substances. The reward you select should be age-appropriate, so don't expect stickers to work for an older child.
Bring the Family Together
Who wants to brush and floss their teeth alone? Even if your child wants to take care of their smile by themselves, you can still make it a family affair. By everyone coming together in one bathroom, your child can watch you take proper care of your smile. This will encourage them to do the same.
Also, you can easily monitor how long and how well they're brushing and flossing, and you can have fun in the process.
The younger children realize that brushing and flossing are fun, the greater their chances of maintaining good oral hygiene the older they get. So don't be afraid to start early. Try one of these family-friendly options to set them up for success.
About the Author
Dr. Maggie Davis earned her Doctor of Dental Medicine and completed her pediatric residency at the University of Florida. As the chief pediatric resident, she graduated fourth in her class. As a board-certified pediatric dentist and diplomate in the American Academy of Pediatric Dentistry, she and Dr. Lorielle Alter lead a team of professional hygienists, assistants, and administrative staff. By offering parents helpful ways to make oral hygiene fun for kids, they can take the process from boring to exciting in no time. Call our office at (727) 786-7551 or visit our website to learn more.
Comments Off

on 4 Ways to Make Oral Hygiene Fun for Kids
No Comments
No comments yet.
RSS feed for comments on this post.
Sorry, the comment form is closed at this time.