February 14, 2023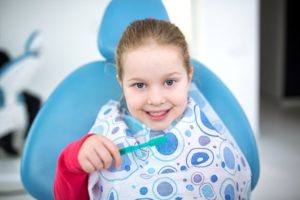 It is common for children to experience a degree of uncertainty and trepidation when they visit the dentist. Some of them are so fearful that it is difficult for their dental team to care for them! What can you do to reduce dental anxiety in kids? Here are some tips to help your little one adopt a more positive view of their time in the dentist's office:
Desensitize Your Child
Often, children are afraid of anything that is unfamiliar to them, including their dentist's office. You can help to familiarize them with this new environment by bringing them in for a desensitizing visit.
Typically, desensitizing visits happen during a practice's slower hours. Children are welcomed into the office and given a tour. They can pick out prizes, press the buttons on the treatment chair, and interact with the team who will be caring for their smile.
These visits, which typically take just a few minutes, can be a great way to alleviate some of your little one's anxiety and make them actually look forward to their next appointment.
Please note that not all pediatric dentists offer desensitizing visits. Be sure to ask your local team if they have this provision in place.
Provide Information
When your child understands why they have to visit the dentist, they are more likely to cooperate. From very early on in their life, you should find ways to emphasize the importance of a healthy smile and the good habits that support it.
For example, you can have discussions about brushing their teeth, how cavities develop, and more. You should also make it clear that dentists are kind and caring people who genuinely want to help their patients.
Ask About Sedation
Providing information and bringing your child to desensitizing visits can accomplish much. However, you might find that your little one is still quite anxious about their dental appointments. In such a scenario, you may need to ask your pediatric dentist if they offer sedation.
Sedation uses various forms of medication to help patients stay calm and relaxed. When it is administered properly, it is safe for most children and can make their dental care experience as easy and stress-free as possible.
Dental anxiety is a common issue among children. Fortunately, as a parent, you have much power to help your kids adopt a more positive view of their time in the treatment chair.
Meet the Practice
Dr. Maggie Davis and her associates are proud to offer pediatric dental care in a warm and relaxed environment. We welcome kids to come in for desensitizing visits, and sedation is also available to help patients relax. To learn more about us and how we may be able to serve your family, get in touch with our Palm Harbor dental office at 727-786-7551.
Comments Off

on How to Reduce Dental Anxiety in Kids
No Comments
No comments yet.
RSS feed for comments on this post.
Sorry, the comment form is closed at this time.