April 28, 2021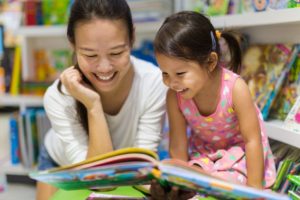 Is your child feeling a bit nervous about their upcoming dental appointment? They're certainly not alone! Plenty of children and adults suffer from dental anxiety. In fact, you may be feeling a bit anxious about your little one's upcoming visit yourself if you don't know what to expect. Thankfully, reading children's books about dental visits with your little one can go a long way in helping you both feel more prepared! Here are a few great choices to get started.
The Importance of Defeating Dental Anxiety Early
Helping your child feel less anxious about their upcoming appointment will do a lot more than just make it a more pleasant visit. The impressions your little one makes about going to the dentist now will likely shape how they view oral health care for the rest of their lives. Smooth, stress-free visits early in life will help encourage them to continue to get regular dental care as they grow and prevent dental anxiety later in life.
Children's Books About the Dentist
Plenty of talented children's authors have created books that can help your child better understand their dental appointment. Many feature familiar cartoon characters, talking animals, and bright colors that are sure to delight your child as they learn about the importance of oral health! Some of the most popular children's books about dental visits include:
Just Going to the Dentist, by Mercer Mayer
The Berenstain Bears Visit the Dentist, by Stan Berenstain
Curious George Visits the Dentist, by Margret & H. A. Rey
The Tooth Book, by Dr. Seuss
Dentist Trip (Peppa Pig), by Scholastic
Dora Goes to the Dentist, by Random House
Did Dinosaurs Have Dentists? By Patrick O'Donnell
Celebrate! Going to the Dentist, by Sophia Day
Other Tips to Prepare for Your Child's Visit
Aside from reading children's books about dentist appointments, there are lots of other ways you can help prepare your child to visit the dentist:
Practice good dental habits: It goes without saying, but your child's dental appointment will be a lot more pleasant if they don't have any cavities! Make sure your little one is brushing for two minutes twice a day and flossing regularly.
Play dentist at home: Prepare your child for what being at the dentist is like by having them sit back in a chair while you count their teeth out loud with a toothbrush. This can be a strange new experience for your little one, and practicing at home will make it less unfamiliar during their appointment.
Schedule their appointment wisely: When scheduling your child's appointment, try to pick a time when they're in a good mood. Typically, this could be in the morning, after a meal, or after a nap. If your child is tired or hungry during their appointment, they'll be much more likely to get upset!
While parenting doesn't come with a handbook, there are a variety of resources available to help make caring for your child's smile easier. Try reading one or more of these children's books about dental visits to help them (and you) feel more prepared and at-ease!
About the Practice
Dr. Maggie Davis & Associates is proud to offer gentle, relaxing, and fun dental care for the growing smiles of Palm Harbor and the surrounding communities. As mothers themselves, pediatric dentists Dr. Maggie Davis and Dr. Lorielle Alter have created a dental practice that's designed to take the stress out of dental care. With the latest dental technology and a team of experts with a heart for pediatric dentistry, you can rest assured that your child's precious smile will receive all the personalized, high-quality care they deserve. To learn more about preparing for their first visit, you can contact them online or at (727) 786-7551.
Comments Off

on Banish Dental Anxiety with These Books About the Dentist
No Comments
No comments yet.
RSS feed for comments on this post.
Sorry, the comment form is closed at this time.